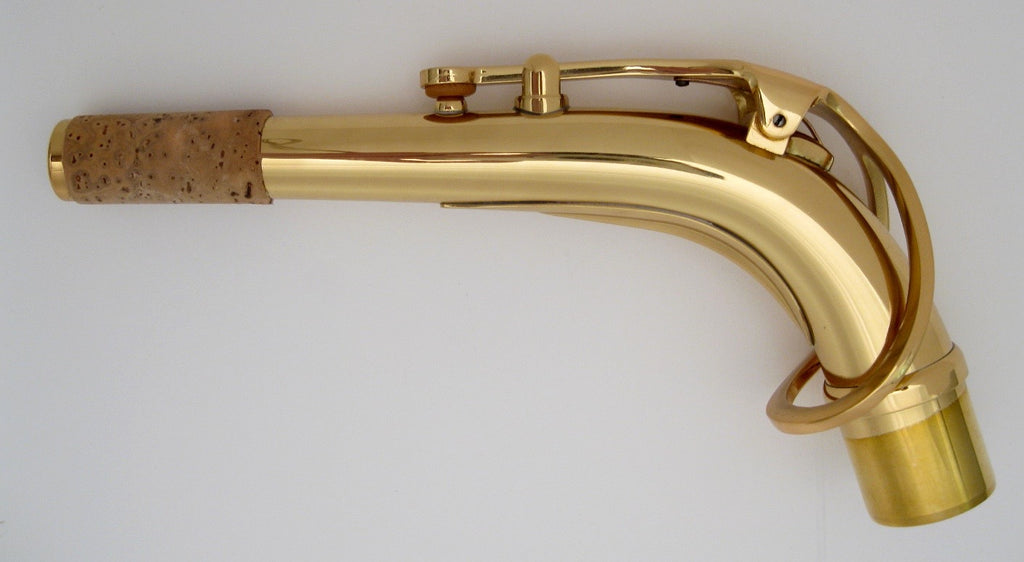 Peter Ponzol Professional Alto Saxophone Neck (NEW)
Peter Ponzol Professional Alto Saxophone Neck.  Peter spent years in the design departments of Buffet and Keilwerth and has designed this neck for most modern alto saxophones.  This neck gives an even resistance, timbre, and improved intonation.  The tenon measures 24.45mm and should fit most modern alto saxophones.  It was designed with modern Selmer and Yamaha altos in mind, but should fit most.  It may need to be adjusted for your saxophone.  This is a brand new neck and has never been used.
Here's a video of Peter Ponzol discussing these necks:
https://www.youtube.com/watch?v=hbGFPrqvYyE
Here's an additional note from Peter Ponzol:
    As many of you know, I was one of the first to offer after-market necks for saxophones back in 1995.  My many years working as a consultant for Buffet and Keilwerth taught me how important the saxophone neck is.  Those of you involved with flutes know this about the flute head joint.
     This led to the introduction of the Ponzol after-market necks in 1995.  When I began working with Antigua to develop the ProOne series of saxophones in 2009, I had to stop my neck production because I simply did not have enough time for all my activities.  Beginning this year, I have cut back on some of those activities and once again, can concentrate on necks.  
   Who needs an after-market neck?  Well, the first obvious answer is someone who has damaged the original neck to their saxophone.  Also, the saxophone market is full of Selmer copies, some good but most are not.  I find that the weakest point of most of these saxophones is the neck design.  I have been in the mouthpiece business since 1985 and in my opinion a better neck can offer as much to a player as a mouthpiece can.  
    Ponzol necks will fit Selmers and most Selmer copies, which means most saxophones made today.  The improvements include better and more even response, a sound that is better focused and in many cases, improved intonation.
SKU PPANECK