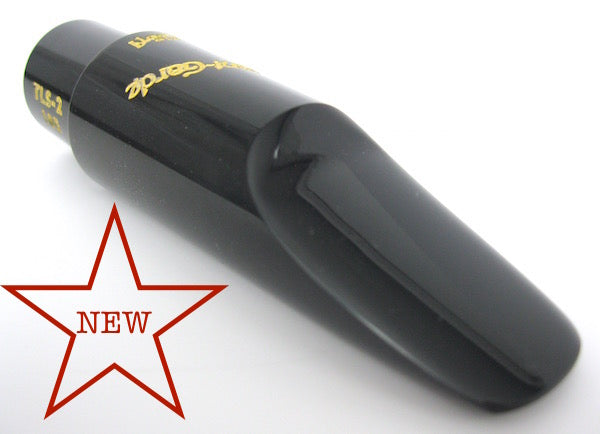 Avant-Garde by Morgan TLS-2 Tenor Saxophone Mouthpiece (NEW)
Morgan Avant-Garde TLS-2 Tenor Saxophone Mouthpiece

The TLS-2 is a large chamber mouthpiece with a short shelf baffle.  It has a streamlined body, so it feels smaller in the mouth and has a quick response due to the thinner walls of the mouthpiece.  This mouthpiece produces a big, full and traditional tone with some edge to it.  The Avant-Garde line of mouthpieces is a great choice for stage performers as these blow freely, project well and have an even response throughout the range.

The Morgan Avant-Garde line of mouthpieces is a new line of mouthpieces introduced in March of 2020.  We will continue to add models to the line throughout the year and beyond.  These models are designed by Erik Greiffenhagen.  The blanks are made of the finest grade of German Ebonite and precision machined using the latest CNC milling technology. The blanks are then finished by the hands of our skilled craftsmen using hand tools.  We will add models with more chambers and baffles as we fill out this line with new models.

The model numbers indicate the instrument (alto or tenor saxophone), chamber size (large or medium), body shape (full or streamline) and baffle height (0 - 3).  Baffles are indicated by number: 0 - No Baffle, 1 - low rollover baffle, 2 - short shelf baffle, 3 - long shelf baffle.

In this case, the TLS-2 Model designates (T)enor, (L)arge chamber, (S)treamline body, and the #2 (or short shelf) baffle.  

Generally speaking, as the baffle number increases, the edge in the tone of the mouthpiece also increases.  A large chamber mouthpiece with no baffle has a dark and rich tone with a little edge.  A large chamber mouthpiece with a long shelf baffle will also have a core dark tone but will have quite a bit more edge to the tone.
Tip Openings: .100, .105

Free USA shipping!

Ten day trial period…shipping time is not counted in the trial period. If you don't like it for any reason, return for a refund minus restocking fee of $15 for US and $25 for overseas customers.
SKU MORAGTLS2100